Our parents and teachers were always after us to read. Be it any comics of our time like Champak, Nandan, Reader's Digest, and many more magazines and novels. Every time pointing out "KUCH PADH LO" was an explanation that reading will expand your brain, improve your writing skills, and vocabulary, and you will know what is happening in the world around you. No doubt all elders used to read lots of magazines and newspaper, especially Papas and Dadajis. Early morning they sat with a cup of tea in one hand and newspaper in other, and then discussing the news with family members used to be a good start of the day .
Today the scenario has completely changed. As we wake up, mobile phone is the first thing we check for Whatsapp messages and our fingers start texting, and when the same thing our child does we start saying, "LO UTHTE HEE PHONE PE CHALOO HO GAYA". Why are we saying this when we are doing it ourselves, this change has to begin from all of us.
I, with this thought in mind, started with 'READING IS FUN' corner in my Canvas International Preschools for kids to promote reading from a young age.
Canvas is conducting workshops at their preschool chains in Jaipur and Rajasthan for parents to promote reading by conveying to them – "When parents and teachers read aloud to kids they are not only preparing them to learn to read, they are also exposing them to good language and communication development."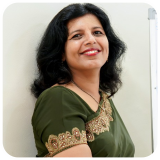 Head of Academics
Canvas International School